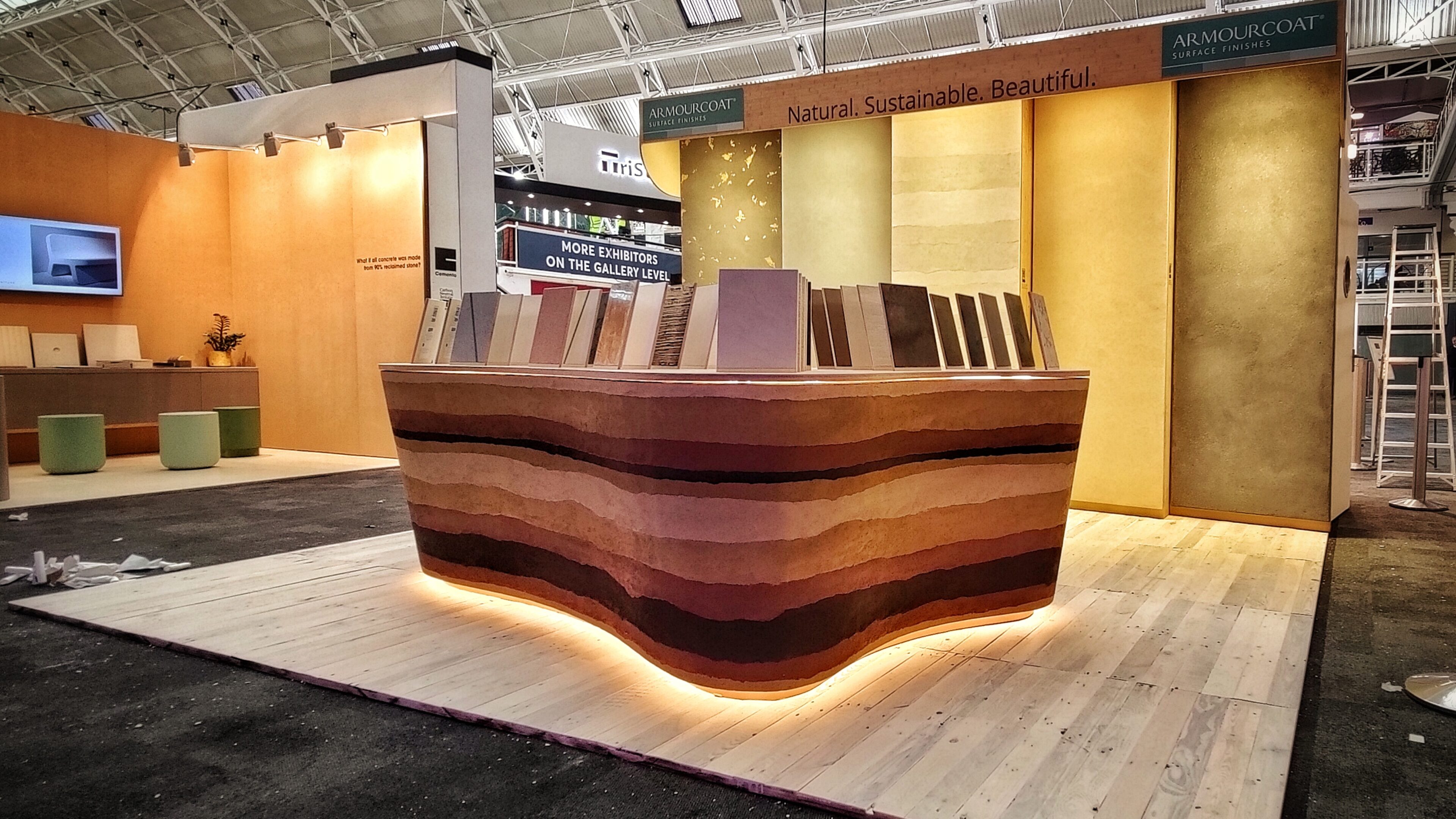 Armourcoat exhibiting at The Surface Design Show in February 2022
Decorative surface finishes specialists Armourcoat will be exhibiting at The Surface Design Show in February 2022, a must-visit event for architects, designers and specifiers looking to explore the best in surface material innovation.
Now in it's seventeenth year and held at Islington's Business Design Centre, the show will have a strong focus on sustainability with more than 150 exhibiting companies and organisations displaying the widest range of surface materials and designs, not just from the UK, but from around the world.
A 'Sense of Place' is the theme for this year's Surface Spotlight Live 2022 which will present a selection of surfaces, finishes and materials that celebrate the power of creative thinking, showing how ethical innovation is providing positive design solutions. Located right in the centre of the Show, Surface Spotlight Live remains one of the highlights of the exhibition and will feature innovative and tactile materials for visitors to touch and feel, including Armourcoat's new natural clay lime plaster.
"We are extremely excited to showcase our new clay lime plaster at the Surface Design show this year. Armourcoat clay lime plaster offers a whole new experience in sustainable decoration for the business and the home. Naturally beautiful and sustainable, low in embodied carbon and retaining the raw aesthetic of clay only plasters, it is resilient enough to be used as a wall finish with true longevity"
Duncan MacKellar, Founder and Creative Director – Armourcoat
Available in a wide range of colours in two standard finishes, Clime Matte and Clime Stone, the newly launched clay lime plaster has achieved IAC Gold status by incorporating abundant natural materials such as unfired clay, marble, limestone and hydraulic lime making it 100% cement and VOC free and biodegradable. Due to the materials versatility, it can be used in both homes and commercial buildings, withstanding the demands of busy interiors. Custom colours and finishing techniques are also possible including layering, carving and the inclusion of natural by-products such and hemp shiv.
Product samples and information regarding third party verified environmental product declarations, health product declarations and LEED statements will be available at the Surface Design show from 8–10th February 2022, stand 103.